Pitchfork's Inside Discovery
Editorial Microsite—2016

Role: Designer
Contribution: Art direction, visual design

Spotify's Discover Weekly is a playlist made every Monday, based on the music you listen to. It's powered by an incredible algorithm, but it's hard to understand how good it is at predicting your tastes without experiencing it yourself. This project was done with a really small team at Stink Studios and a 3-week timeline start to finish.

The experience is organized around three artists and three Pitchfork editors. Each one takes you through their real Discover Weekly playlist and describes their reactions in text and video.

At the end of each story, viewers were prompted to listen to their own Discover Weekly playlist on Spotify to experience the magic for themselves. In the end, we were able to create a new narrative around Discover Weekly that focuses on the thrill of discovery instead of the technology that powers it.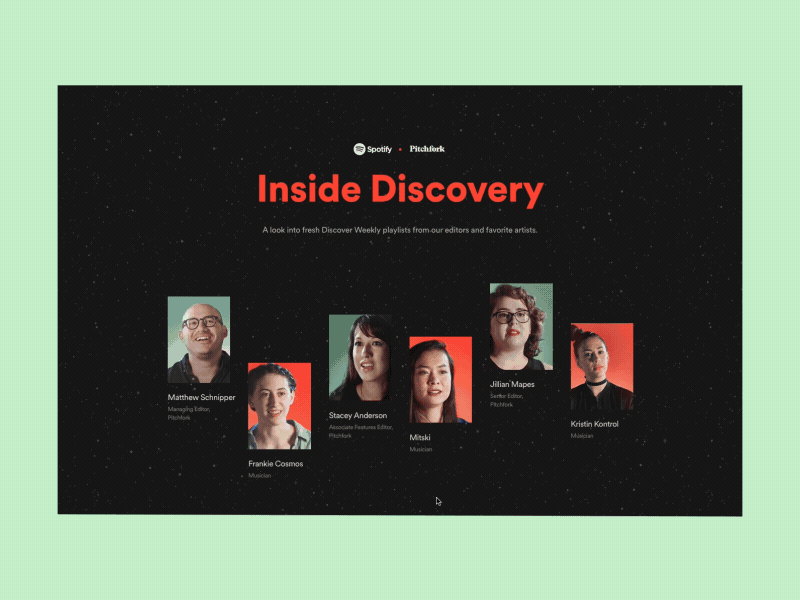 Executive Creative Director Ben Hughes

Creative Director
David Navarro
Art Director
Sylvain Theyssens

Designer
Jessica Hägg
Producer
Lauren Saunders

Creative Developer
Tim Roussilhe